Like the star wars set
One advantage of a vcd is it can be played on a multi region dvd player so if a film is not available on dvd then vcd is another option without the need to buy a laserdisc player or video recorder.The most sought after VCD title that I know of is Kate Bush the whole story and the vcd is 80mins long where the laserdisc is 55min or 68 min depending if it is the updated version.
VCD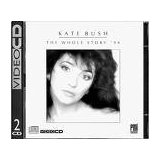 I also have Clive Barkers SALOME AND THE FORBIDDEN on vcd , it is available on dvd but the asking price is over £60 so the vcd is a much cheaper alternative.
ABOUT SALOME AND THE FORBIDDEN
Clive Barker made two films which went on to be put on video: Salome, which he did when he was 18, and The Forbidden, which he did when he was 19. Both short, dark pieces. Salome is seven minutes long and shot on 8mm; The Forbidden was shot on 16mm.
Doug Bradley: "One image that I remember strongly, from The Forbidden, was that Clive had built what he called his 'nail-board'. Basically, it was a block of wood which he squared off and he banged six-inch nails at the intersections of the squares. When I first saw the illustrations for Pinhead, it rang a bell with me. Here was the idea he'd been playing with, the nail-board, from The Forbidden. Now, ten or fifteen years later, here he'd actually put the idea all over a human being's face!"